The zenon Software Platform from COPA-DATA
Automation Software
As a universally deployable piece of automation software, zenon ensures simple, secure, and independent industrial automation for many companies worldwide. The software platform provides an integrated overall solution which connects the whole company, from the sensor level to the ERP system. Your machines can be operated quickly and safely with zenon as HMI – even with Multitouch.
Process Control System
As Process Control System, zenon ensures optimal visualisation, supervision and control even in complex networks.
Integrated PLC System
As an integrated PLC system, zenon can communicate seamlessly with heterogeneous hardware landscapes. Relevant automation and IT data is processed in real time in individually configurable reports using comprehensive reporting and analysis tools and is recorded using the zenon Process Recorder.
Systematic Data Acquisition
Systematic data acquisition and cross-location data management with zenon make it possible to identify starting points for improving efficiency. Machines can be operated quickly and safely with zenon as an HMI – even with Multi-Touch.
Easy Integration With Legacy Systems
The automation software can easily be integrated into existing environments as a platform-independent SCADA solution. Wizards like the WinCC Converter allow for a simple transfer from other systems.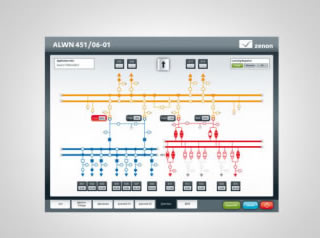 zenon Energy Edition
zenon for Energy & Infrastructure
Comprehensive and state-of-the-art SCADA solution for power plants, substations and wind parks. zenon is easy to integrate into existing infrastructures and meets all international standards thanks to various industry-specific drivers and security features.
zenon Operator
Embedded HMI System
Configure and control machines and equipmen ergonomically with zenon Operator, the HMI system for all Windows operating systems. Multitouch technology and versatile aplications make zenon clear and intuitive.
zenon Supervisor
Independent SCADA system
Visualize, control and optimize complex facilities. The zenon Supervisor SCADA System is platform-independent and easy to integrate.
With zenon Logic, you go for maximum security and optimal connectivity to existing machine environments.
zenon Logic
Integrated PLC System
With zenon Logic, the zenon product family boasts an integrated, IEC 61131-3 based PLC system for maximum process control and logical data processing. zenon Logic effortlessly links PLCs and by that facilities both process engineering and logical data management.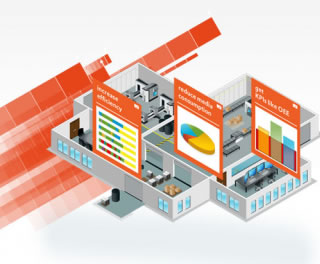 zenon Analyzer
Dynamic Production Reporting
Analyze, process, present – zenon Analyzer, the Dynamic Production Reporting tool, helps to identify potential for improvement, to minimize downtimes and optimize production, and achieves increased efficiency in production and, in turn, a rapid return on investment.
zenon Analyzer is featuring latest Microsoft SQL Server 2012 technology.